This is a section of the EvoCreo Walkthrough.
This page is a walkthrough for the following locations: Plantae Village, Largo Bridge.
Introduction, click here.
Section 1, click here.
Section 3, click here.
Plantae Village
Upon entering Plantae Village Maestro talks to you about the arena and EvoCo where you can buy Items and heal your Creo
Follow the path down and left and enter EvoCo to heal your Creo and buy any Items you need.
Talk to the person at the counter to buy/sell Items
The white computer is Creo Storage where you can view your stored creo and adjust your party.
The blue computer heals your Creo and clears all conditions and boons off of them.
Plantae Village Arena
Exit the EvoCo and follow the path left and up and enter the Arena. This arena uses nature-type Creo as the name of the region suggests.
You will need to pay a fee of $5 to participate in the Arena.
After paying the fee move up and immediately left to see a battling field. Move into the field and you will be given an introduction to the arena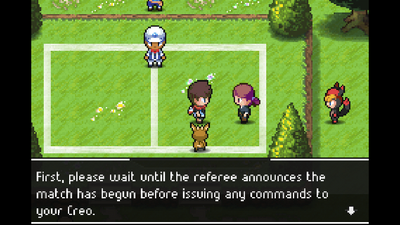 When you are ready to battle talk to the referee. You have to win 3 battles without leaving the arena to win the arena
Horatio
After you win the arena, the referee will award you the Colmena Pass.
Now leave the arena.
When you exit the arena DR ILM stops you and adds the Creopedia to your menu.
Colmena Building
After leaving the arena follow the path till you see a dirt path with 2 farmers on it, follow it left and down and enter COLMENA BUILDING.
Once inside walk a little and REGINA talks to you about Genetically modified Creo.
You are currently not able to "come back later to GM your creo". This is probally a planned future content
Largo Bridge
Leave the COLMENA BUILDING and follow the main path right and down to a red bridge.
Upon entering and walking a few steps TAKU aka your fanboy battles you
After which follow the bridge right towards Carbon City , you will encounter many battles along the way. First is ANTHONY HANSON
Next is MARCEL MATZ
After that you may choose to battle Kurt Burkett by walking into his line of sight
Talking to the farmer reveals there is a secret that can be reached using FLY with a Creo That Learn Fly from Largo Bridge. This secret location has the Prime Creo Seacean and will be covered in a later part of the walkthrough.
Next battle is with Damien
After which talking to a citizen suggests that SHADOW HIVE is in the area
You can now exit Largo Bridge into Carbon City
---
Community content is available under
CC-BY-SA
unless otherwise noted.